The Los Angeles Lakers and Brooklyn Nets are actively engaged in discussions on a trade package that would send star point guard Russell Westbrook to Brooklyn in exchange for star point guard Kyrie Irving, league sources told Yahoo Sports. There's palpable optimism that an agreement can be struck between the two sides this offseason, but there remain a few hurdles, sources said.
Source: Chris Haynes @ Yahoo! Sports
What's the buzz on Twitter?

Sam Quinn @SamQuinnCBS
Putting aside the Harden beef, I sort of think the Sixers would've just traded Ben Simmons for Kyrie Irving like nine months ago if he was someone they were really interested in. – 11:24 PM


Sam Vecenie @Sam_Vecenie
GAME THEORY PODCAST: Free Agency/Trades Deep Dive with @FearTheBrown!
-Gobert Trade
-Kyrie for Russ?
-Brogdon trade!
-Brunson, 76ers, Blazers,
-More KD trade speculation!
GOING LIVE NOW: https://t.co/EoI3MTeT0h pic.twitter.com/tEg6zg3lNq – 11:18 PM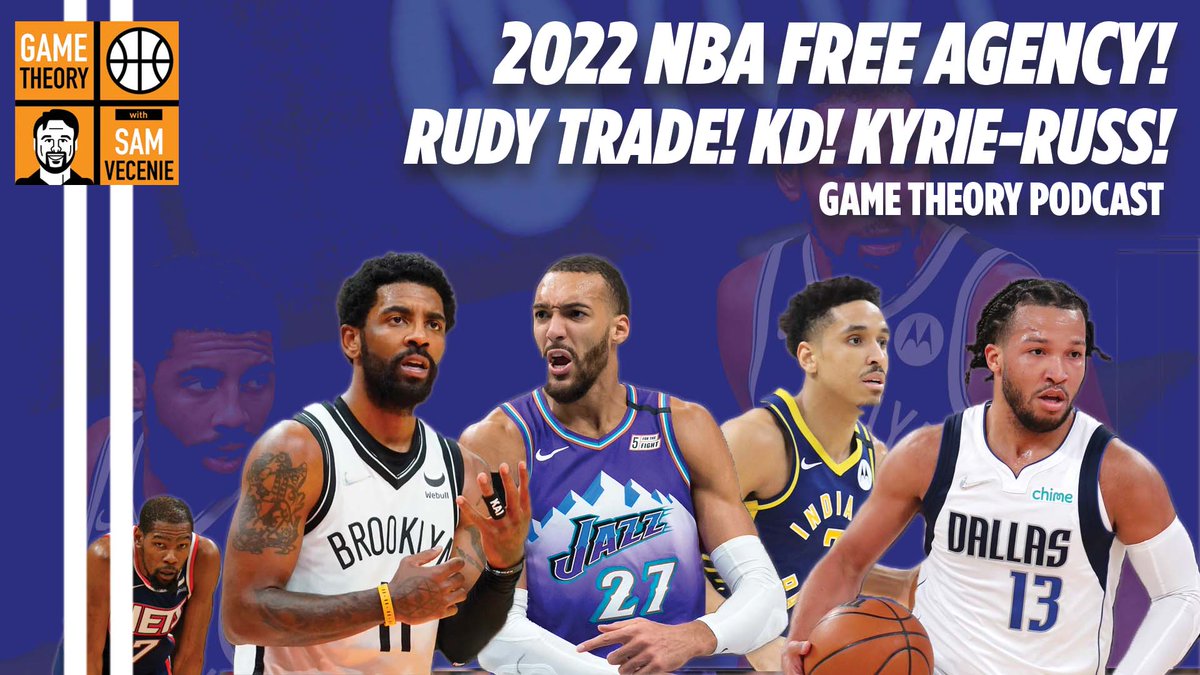 Eric Patten @EricPatten
All of the "Lakers are getting Kyrie" panic tweeters: it's been five years since Kyrie didn't either get hurt or flame out of the postseason, AD is coming off lower leg injuries in back to back seasons, and I'm pretty sure LeBron turns 50 during this year – 10:45 PM

Ryan McDonough @McDNBA
Me – when I realized Kyrie couldn't be traded for Westbrook straight up because the Nets need to send out more money to make the deal work pic.twitter.com/0fmqDK7ZHV – 10:44 PM

Mark Deeks @MarkDeeksNBA
So according to the current news cycle, Russell Westbrook might be rejoining Kevin Durant in Brooklyn, however briefly, and Kyrie Irving might be rejoining James Harden in Philadelphia. Yeahhhhh, it's bed time. – 10:41 PM


Rob Perez @WorldWideWob
i cant be the only one who wants to see what the defense looks like guarding a Ben Simmons/Russell Westbrook backcourt. – 9:08 PM


Ryan Ward @RyanWardLA
It's pretty crazy to think that the Nets went from having three legit superstars (KD, Kyrie, Harden) to potentially having none before the start of next season.
A superstar trio that scared the rest of the league to a potential rebuild. NBA is wild these days! – 9:05 PM


Kurt Helin @basketballtalk
Lakers, Nets reportedly "actively engaged" in Irving for Westbrook trade talks nba.nbcsports.com/2022/07/02/lak… – 8:39 PM


Sam Quinn @SamQuinnCBS
Where do we think Russell Westbrook goes if he's bought out by Brooklyn in a Kyrie Irving trade?
Washington would've been my guess before Morris and Wright. Dallas as a low-minutes backup with their spacing bigs beside him? Maybe Charlotte because of the Jordan connection? – 8:17 PM


John Hollinger @johnhollinger
If Nets don't refer to the Russell (Westbrook) – (Ben) Simmons pairing as the "Def Lineup" then what are we even doing. – 8:10 PM


StatMuse @statmuse
3-pointers in the last 2 seasons:
252 — Kyrie
168 — Westbrook + Simmons pic.twitter.com/0wDRnUropa – 8:07 PM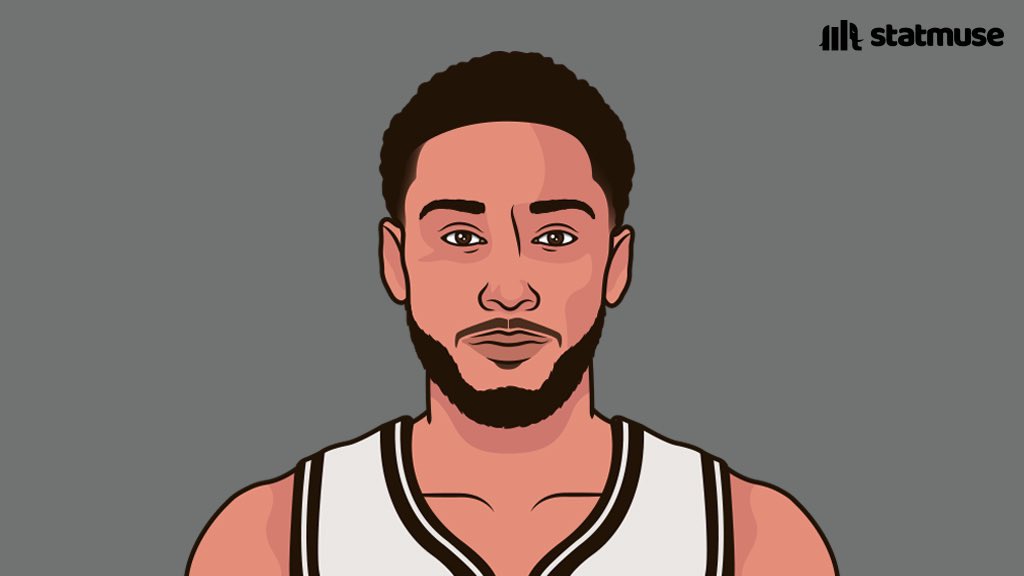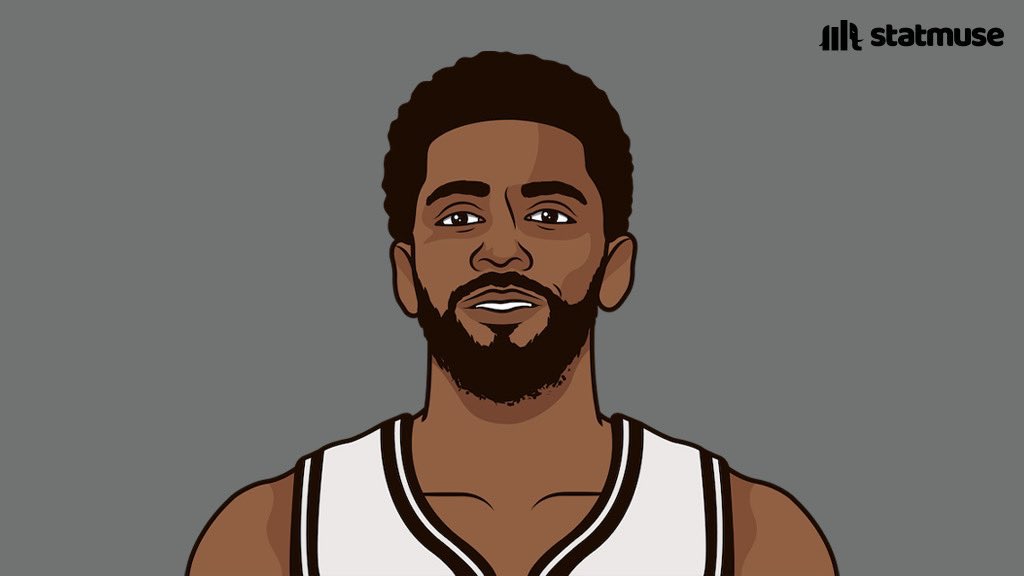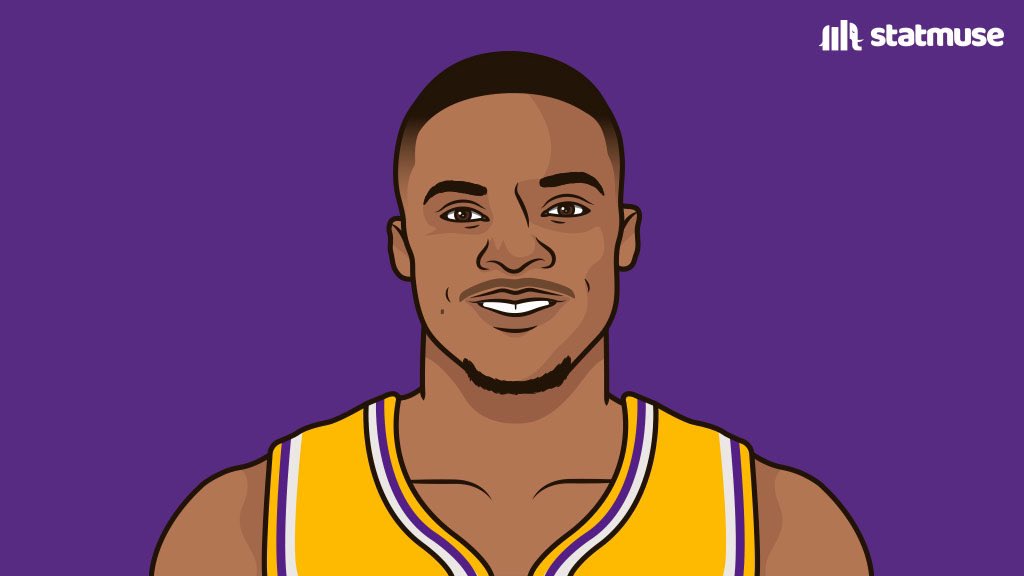 Tommy Beer @TommyBeer
Going from KD, Kyrie and Harden to Ben Simmons, Russ Westbrook and Royce O'Neal in the span of six months is, um… not great
#ScaryHours – 8:04 PM

Fred Katz @FredKatz
My favorite Russell Westbrook-Kevin Durant anecdote I've ever written. Was cracking up when I heard this one the first time.
From this story: https://t.co/aO4NKlAb0E pic.twitter.com/yyGMLM0raY – 8:00 PM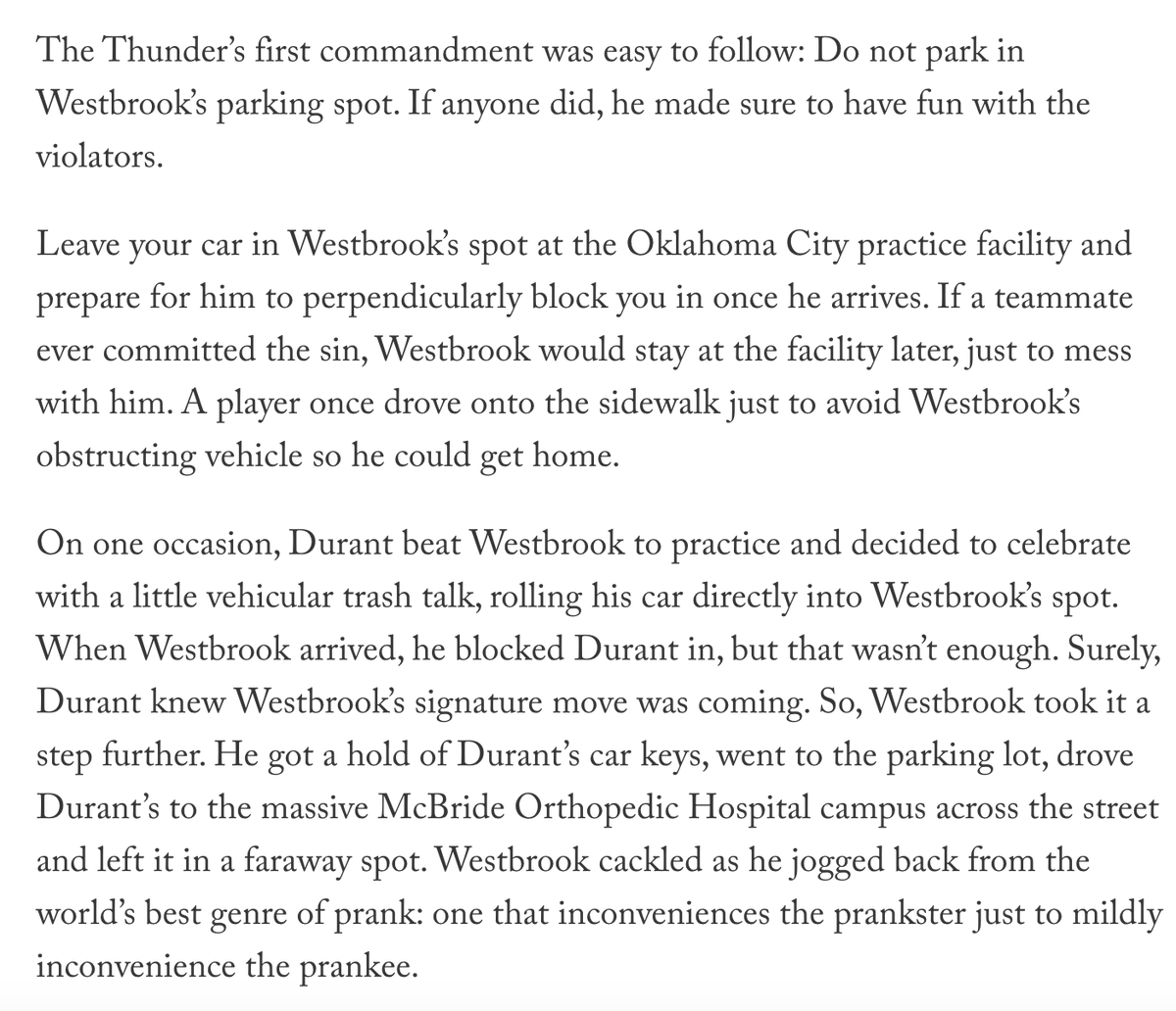 Fred Katz @FredKatz
If Durant gets traded, they may never step in the same locker room; they may never cross paths at the practice facility. I don't know what BKN would decide with Westbrook. But if a Russ-for-Kyrie deal happens first, for a brief, fleeting moment Russ & KD would be back together. – 7:55 PM

Austin Krell @NBAKrell
Wait wait wait…the Lakers think they're in a position to ask for more in a trade for Kyrie?? – 7:49 PM

Chris Haynes @ChrisBHaynes
The Los Angeles Lakers and Brooklyn Nets are actively engaged in trade discussions centered on a Russell Westbrook-Kyrie Irving package, league sources tell @YahooSports: sports.yahoo.com/sources-lakers… – 7:39 PM


Kamenetzky Brothers @KamBrothers
ICYMI, Friday's @LockedOnLakers podcast! We react to free agency so far with the Lakers, and the latest rumors linking Kyrie (and even KD???) to L.A. @LockedOnNetwork @LockedOnNBAPods
podcasts.apple.com/us/podcast/lak… – 6:29 PM


Steve Popper @StevePopper
Popper: Rejected by Kyrie, KD, Knicks better off
Duo would have brought talent and headaches to Madison Square Garden. newsday.com/sports/columni… – 6:28 PM


Brian Lewis @NYPost_Lewis
Why the #Nets' impending implosion was worth the wager on the Kyrie Irving-Kevin Durant pairing. They just lost the big bet nypost.com/2022/07/02/net… via @nypost – 1:31 PM

Bobby Marks @BobbyMarks42
BACK to recap DAY 2️⃣ of NBA Free Agency! | NBA on ESPN
– The making of the touchscreen
– Sleep deprivation
– The 3 trades from Friday
– Best available and recent signings
– KD and Kyrie
and more…
youtu.be/m8rG4mYCjyE via @YouTube – 12:36 PM

Vincent Goodwill @VinceGoodwill
ICYKI: Kyrie Irving is the ultimate mirror, putting everything you think you are on trial, and it looks like the Nets were found guilty by a jury of two. So, KD will go and Irving will go to parts unknown sports.yahoo.com/kevin-durants-… – 11:06 AM


StatMuse @statmuse
Kyrie Irving has played more games with
Luke Walton
Anthony Bennett
Shawn Marion
Mike Miller
Gordon Hayward
than Kevin Durant. pic.twitter.com/VEGtZvz1DW – 10:06 PM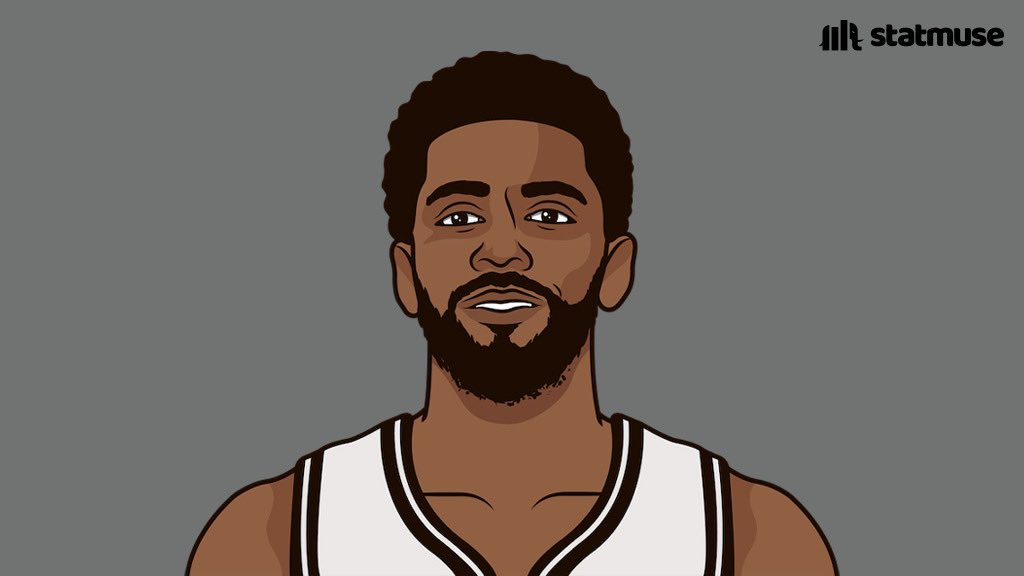 More on this storyline
Kevin Gray Jr: "Kyrie Irving has several suitors involved Lakers, Sixers & Mavericks, keep an eye out in the next couple of weeks…" per Shams Charania #MFFL -via Twitter / July 2, 2022
Chris Haynes: Brooklyn Nets maintain discussions have only been preliminary at this point, sources say. -via Twitter @ChrisBHaynes / July 2, 2022
Draft compensation is an ongoing talking point for the Nets and they want shooting guard Joe Harris — who is recovering from left ankle surgery — and his remaining $38.6 million owed over the next two years included in the deal, sources said. The Lakers have been disinclined to the inclusion of Harris, and are instead seeking the insertion of sharpshooter Seth Curry as part of the arrangement, sources said. -via Yahoo! Sports / July 2, 2022
Appearing this morning on ESPN's "KJM," Brian Windhorst cited a "high-90% chance" that the Nets will honor Durant's trade request and said any deal involving Kyrie Irving will have to wait until Durant is moved. Irving only wants to go to the Lakers, but that means the Nets would have to take Russell Westbrook, who makes about $11MM more than Irving, and working out other compensation for Brooklyn won't be easy. -via Hoops Rumors / July 1, 2022